Many methods and tactics exist to help utilise your digital out-of-home (#DOOH) assets efficiently. Although some of these design principles come from traditional out-of-home advertising, they were adapted to fit the digital nature of DOOH screens. We will look at some great examples to best understand how to create successful content and show how they leveraged the design principle. Below, we've shared the top 4 principles that, if followed, will help you create the best content that amplifies your message.
1. Short Copy
Keep it short and sweet! Concise copy helps the viewers capture the message quickly, which helps with the ad recall rate. Longer paragraphs are harder to read, especially on smaller screens, so following the "3Cs" rule is best; be clear, concise, and captivating.
FreshToHome kept its key message short, while big, bold images drove the brand's message home.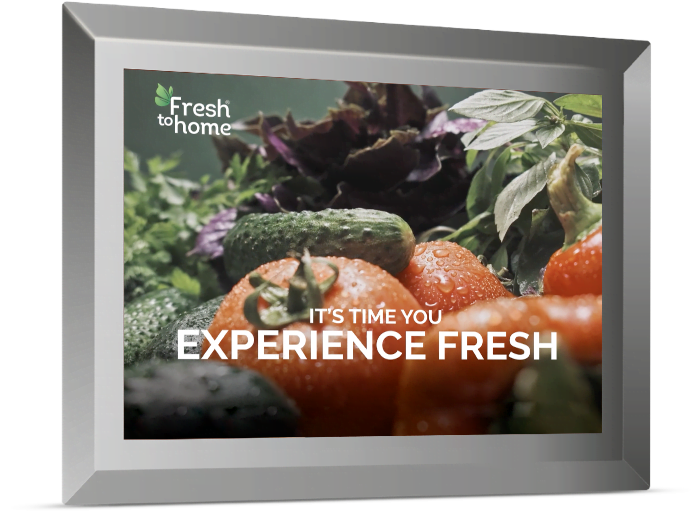 2. Minimal Text In Motion
Here, the "less is more" principle is crucial. It ensures that the text animations are minimal to allow for maximum readability. Finding the proper middle ground can take some testing; usually, having the text move slowly allows the audience enough time to scan and remember the copy. Avoid moving in odd directions or overly animated texts as it decreases ad recall rates.
Noon slightly animated their text to add visual interest without taking away from their distinctive branding.
3. Add Dynamic Content
Integrating API technology into the video content allows the brand to automatically link the ad content to an external information source. This automation creates a real-time affiliation between when the audience sees the content and when the information source updates it, allowing for instant message delivery to the target audience. 
We helped connect our screens to OSN's programming schedule to update their advertised content automatically. The campaign created a sense of urgency and novelty with the audience, encouraging them to tune into the newest content uploaded to the platform daily.
4. Contextually Relevant Creative
DOOH's exciting benefit is that ads can be contextually relevant. The content should follow the nature of the screens used, whether large format outdoor or smaller elevator screens. In this setting, contextually relevant creativity means using the physical space to amplify your message or personalise it to the target audience.
With the weekend shift in the UAE in Jan 2022, Mars' Snickers jumped on the opportunity to create contextually relevant content. The ad ran through our commercial screen network to jump on the conversation already happening throughout the work week.
What makes DOOH unique is that it marries creativity and flexibility while complimenting a brand's marketing strategies, whether online or offline. Thereby reinforcing the brand's messaging, improving ad recall, and encouraging brand consideration.
Our team of experts is ready to help you create the best content for your DOOH campaigns. Get in touch with our team and launch your campaign today!